Year 1 - Miss Carruthers
Goodbye
We have had a lovely final day in Year 1 and Miss Carruthers and Mrs Hall are going to miss everyone so, so much. Where has the year gone?! Time has flown and I don't think we are ready to let you go so soon but here we are! We have both had the best year and had so much fun, we have loved spending every minute with you all. We were both overhwhelmed with everybody's kindness (it took us a while to recover in the classroom on Thursday afternoon and wipe away all our tears) and we just want to say a HUGE thank you for all the kind words and thoughtful gifts; we were speechless! Lots of love to you all, it has been an absolute pleasure! Have a wonderful summer!
(We hope you enjoy the photos below, I know a few children are away already on holiday but everybody promised me they had taken a photo so I hope we got everyone in!)
Fruit Salad
In DT we have been learning all about healthy food. Today we made our own fruit salad, it was very yummy!
Converting media.
(Media will continue converting in the background)
Maths Targets
Well done to Sophie, Emily, Hattie and Zain who have worked super hard and achieved all their targets!
Alfie
Yesterday, Alfie the cat came to visit Year 1 as an end of year treat. He had lots of cuddles, which he enjoyed (despite his grumpy face) and everyone was very excited to meet him! Thank you to Hattie, who volunteered to take the photographs while Miss Carruthers helped everyone!
Beatrix Potter
In Art, we have been learning all about Beatrix Potter and her illustrations. We picked our favourite character to sketch and paint with water colour. Everyone is very impressed with our paintings, don't they look wonderful?
Mini Beasts
Today, Year 1 were visited by mini beasts! It was lots of fun and very interesting to learn all about them!
Thorp Perrow
Year 1 had a fantastic day being nature detectives at Thorp Perrow today! We hunted for mini beasts, went on a woodland walk, met some furry mammals, got up close and personal with some owls and birds of prey and learnt lots of fun facts about them too! After all our walking and exploring, we even had time for a play on the adventure playground!
Yoga day
Today Year 1 took part in a yoga session! It was lots of fun. We learnt that yoga helps us to not only be calm, relaxed and flexible but strong and healthy too!
Pirate Day!
Today, Year 1 came to school dressed as Pirates! Everyone looked fantastic in their outfits. We had a fun filled morning, learning all about pirates. We did some sketching and map work, looked at real pirate weapons and tools and learnt facts about famous pirates.
Our role play this term is a pirate ship! We painted it ourselves! We will be learning all about pirates over the next half term!
Well done to Maddie and Willow who achieved all their targets in Maths! Keep up the good work!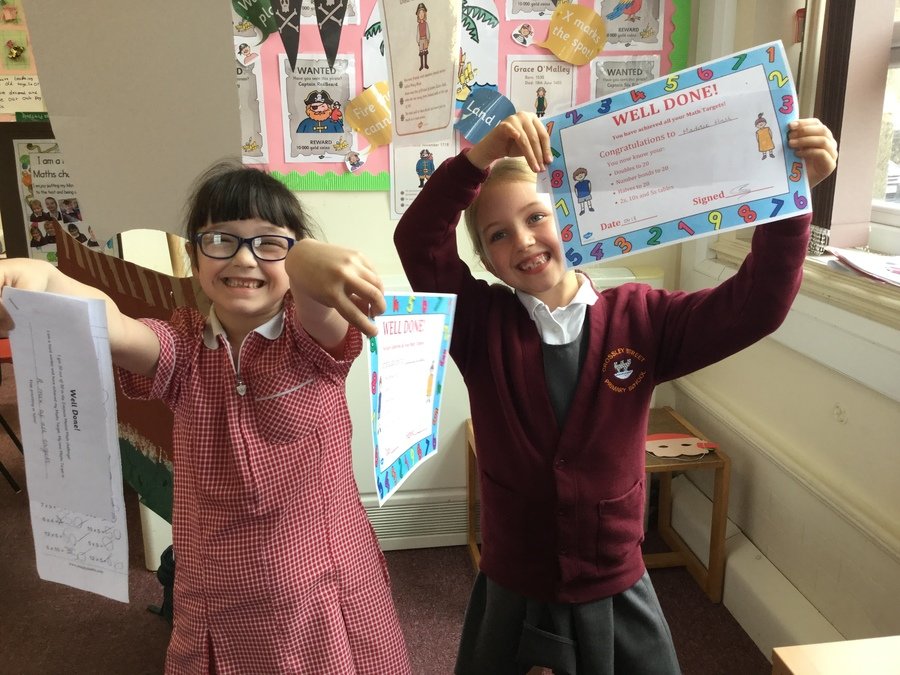 Circus Skills
Our Topic this term is Fantasy Worlds, this week we are learning about the circus and we got to take part in circus skills workshop, it was lots of fun!
Tennis
This half term, Year 1 are being taught Tennis by a local tennis instructor. We are enjoying learning new skills and looking forward to being able to have a rally!
Well done to Max, Joseph, Milly, Oliver Jarvis and Oliver Carr who have completed all their Mental Maths targets!
Sport Relief 2018
Year 1 are getting super fit while doing their bit towards Crossley Street's walk to Privas! It is hard work but lots of fun... almost half way there!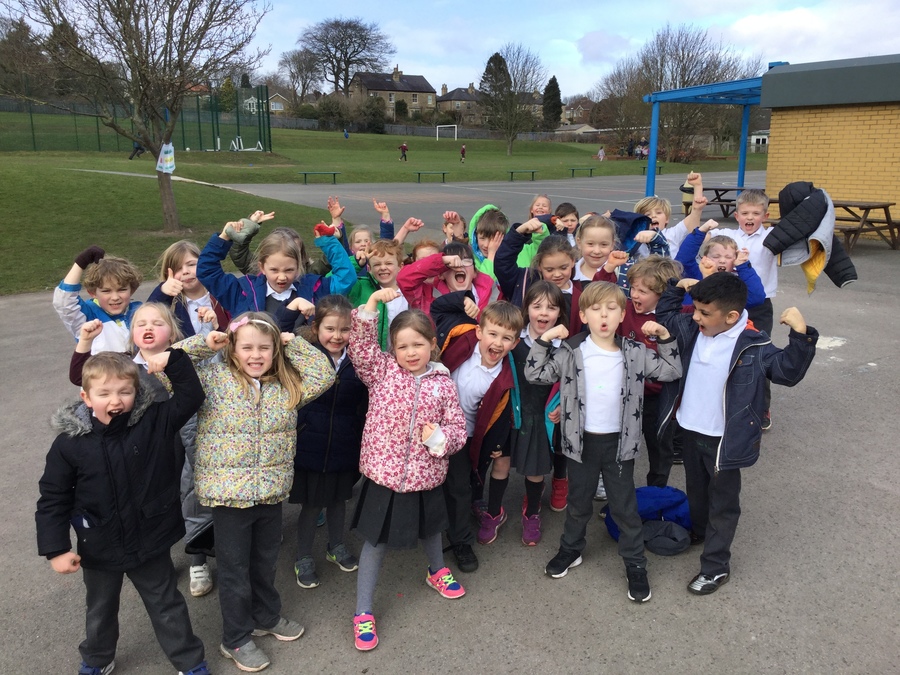 DT
Today, after lots of researching and designing, Year 1 made their own 3D parks. Mrs Hall and Miss Carruthers were very impressed at how well the children worked together and what they created, Mr Hirst even popped down to see the finished products! It has been a busy day and a fantastic finish to our Toys topic! Well done everyone!
Mental Maths
Well done to Joseph Hunter who has achieved all his Maths Targets today! Keep up the good work!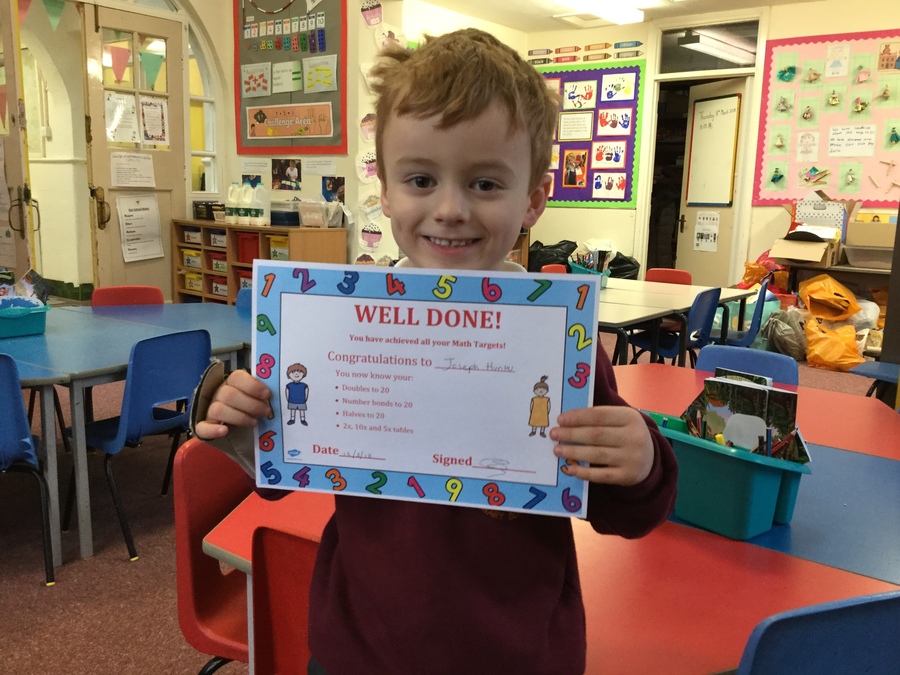 Old Toys
This term, Year 1 are learning all about recounts and time connectives. Yesterday, they got to play with (newer versions of) old toys, it was lots of fun! Today, (Thursday) we have written a recount all about our morning!
Bear Hunt
Today, Year 1 went on a bear hunt! We had to find bears hidden around school and work out what they spelt. Well done to Joseph and Mason, who were the first children to work it out. Tomorrow we will be writing a recount about our bear hunt!
Math Targets
Well done to Mia and Harry who are the first children in Year 1 to achieve all their Math Targets! Keep up the good work!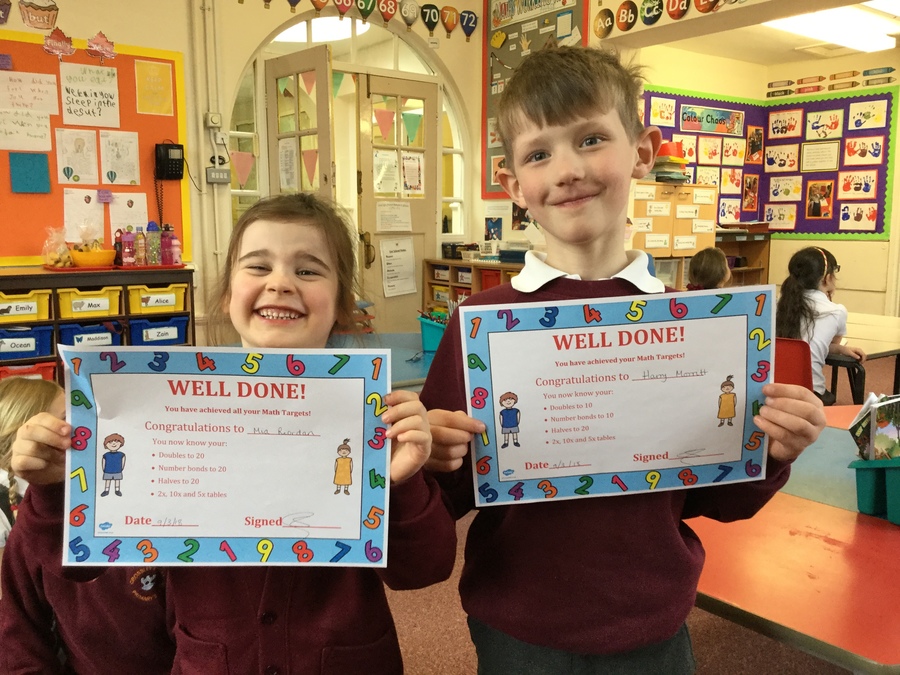 World Book Day
Year 1 looked great in their costumes for World Book Day, well done everyone! We spent the day taking part in lots of fun activities such as reading with Year 6, a book scavenger hunt, 'Where is Wally?' hunt, designing our own book covers!
Cricket
Reception - Year 3 took part in a cricket morning today ran by All Stars Cricket club. It was lots of fun - check out the leaflets and wristbands the children came home with for more information on the club!
Ilkley Toy Museum
Year 1 enjoyed their visit to Ilkley Toy Museum, we learnt lots about old toys and enjoyed looking at toys from the past. After lunch we braved the cold to visit Ilkley park to research the playground for our DT trip!
Tour de Crossley Street
To end our bike week, Year 1 brought their bikes into school to take part in 'Tour de Crossley Street'. We have really enjoyed learning all about the history of bikes and a famous cyclist from Leeds called Beryl Burton.
Year 1 Assembly
Today, Year 1 performed their assembly for parents and the rest of the school. We really enjoyed sharing what we have been up to this half term and we even got a biscuit after as a treat for doing so well!
Keeping Safe
This term in PSHE, Year 1 have been learning all about keeping safe. Today we we learnt how to keep safe on our bike or scooter.
Fire Engine Visit
Wetherby fire fighters came to visit Year 1 today. We learnt all about the fire engine and what an important job the fire men do. It was lots of fun!
Judo
Today Year 1 took part in Judo day! It was so much fun!
ICT
In ICT we are learning to code, we have been making objects move about our screen.
Maths
We have been learning about money in Maths. Today we had to find the correct amount of money to buy a biscuit.
On the Move
Our role play this term is the travel agents!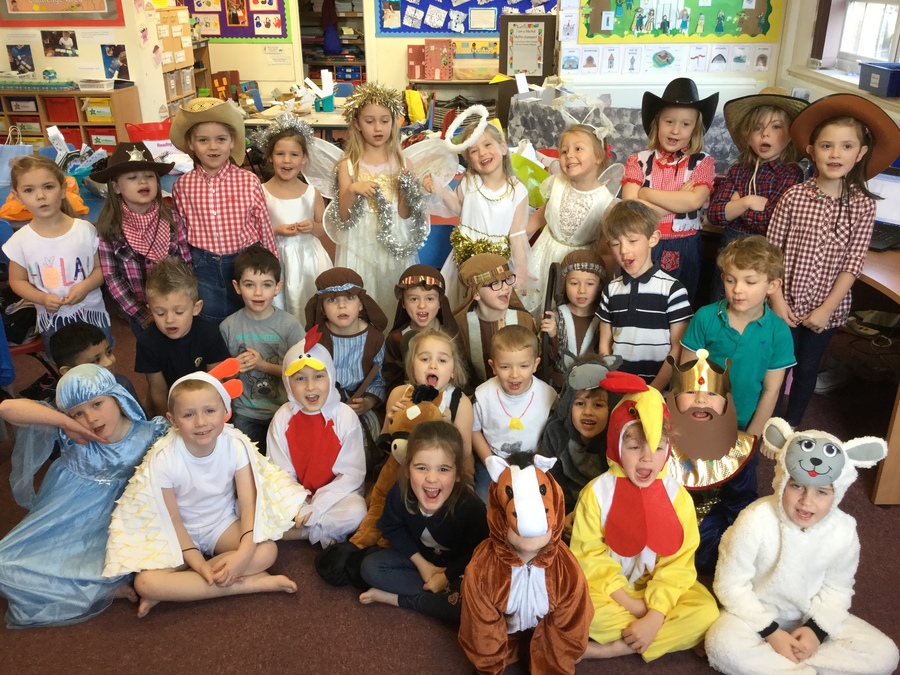 Christmas gingerbread
We made gingerbread cookies as a treat for filling the jewels this half term. They were yummy!
Fairy Tale Day
Year 1 dressed up as their favorite traditional tale character today. We have had lots of fun testing our traditional tale knowledge in a quiz, making crowns and wands and finally making Grandma's buns!
Once Upon a Time
Year 1's Topic this term is Once Upon a Time, we have been enjoying acting out traditional tales in the role play corner.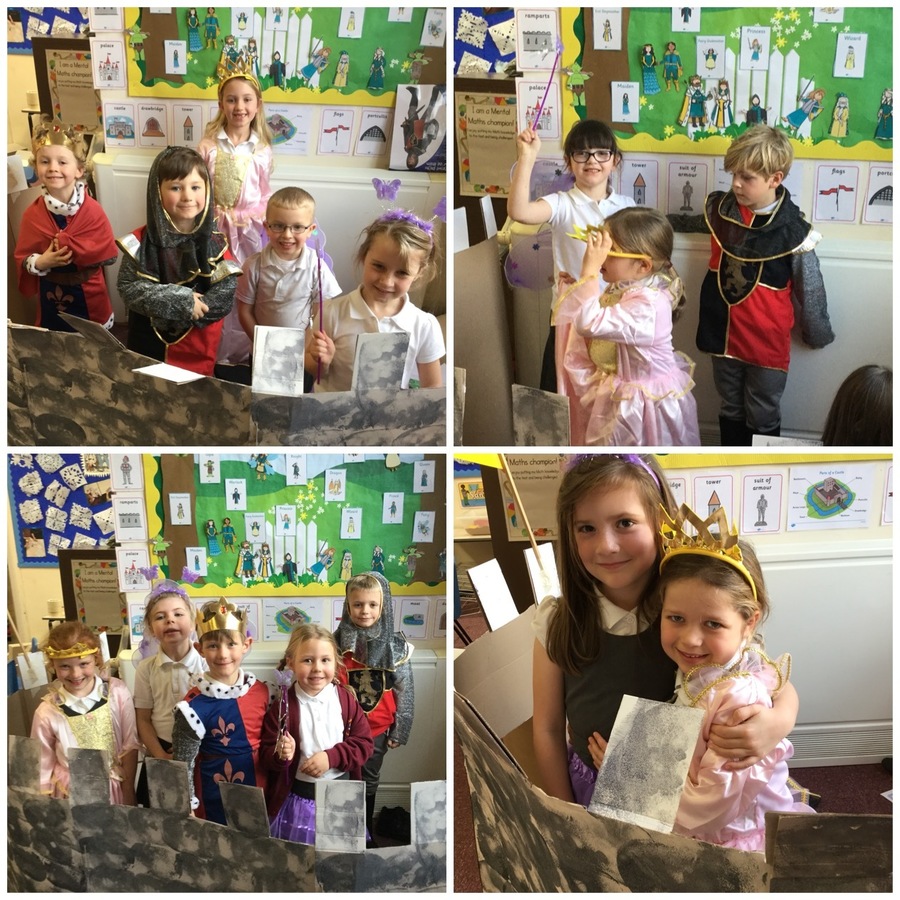 Children in Need
Do you like Year 1's hats?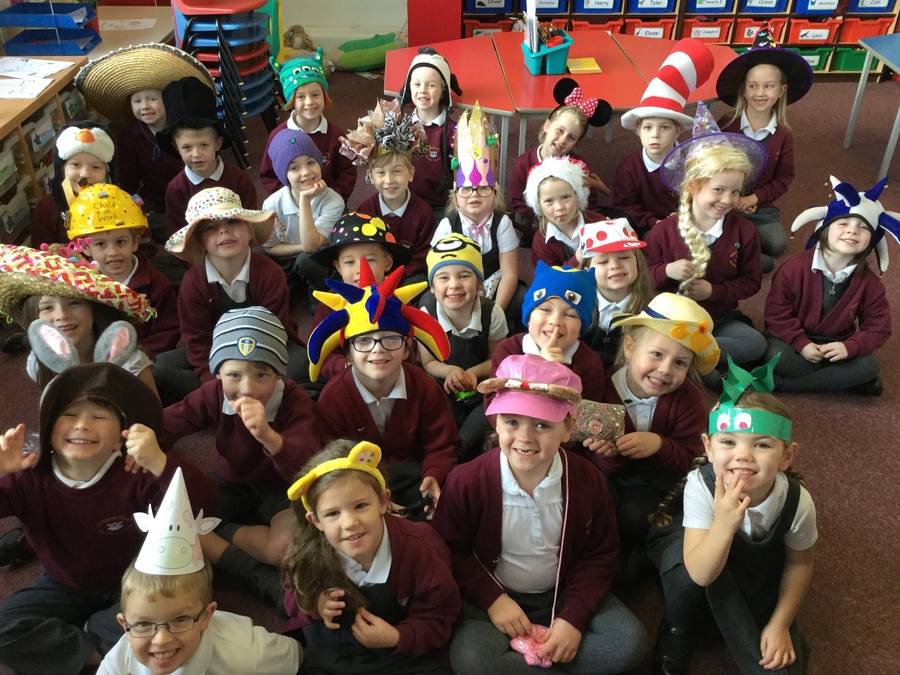 DT
We have been investigating different ways of fastening a bear together.
Shape Hunt
In Maths, Year 1 are learning about 2D shapes. Today, we went on a shape hunt around school to see what shapes we could find!
Autumn Watch
We have been learning about seasons. We went on a hunt to see different types of leaves we could find.
English
In English, our focus this term has been 'Stories with a Familiar Setting'. We have enjoyed role play and acting out the stories.
Rugby
This term, Year 1 have been taught rugby by Leeds Rhino's. We have really enjoyed our lessons!
This term, our topic is 'Marvelous Me'. Our role play is Crossley Street doctors surgery!