Friends of Crossley Street Primary School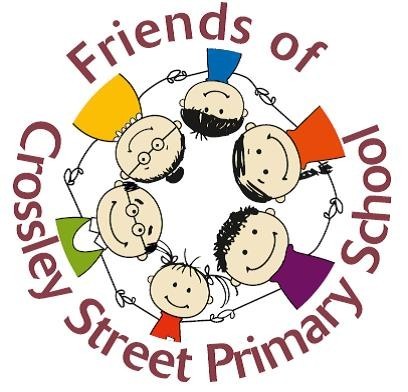 The Friends of the School are a group of volunteer parents who run the charity to raise funds for the school whilst providing entertainment for the children.
There is a core group of about 8-10 organisers with up to 30 others who make themselves available for the larger events such as fairs and family nights. This means you can help out as much or as little as you are able. We have parents who work and find week days difficult to help out with so offer other skills such as printing, videoing and preparation for fairs.
The money we raise goes on a whole range of items from educational equipment to some of the fun things too like cinema trips and playground equipment.
Some of the events we arrange include fairs at Christmas and summer, film nights, discos at the Engine Shed, Jumble collections and Magic nights.
School is such a big part of our children's lives and it's great to get involved. Parents from throughout the school make up the team and you get a real insight of the children's world. All parents are welcomed with open arms and there is always some way you can help out.
Mrs C Burland